Oliver Jeffers reads his own books:
https://www.oliverjeffers.com/abookaday
Celebs reading different children's books
https://www.storylineonline.net/
Official government recommended resources for SEND pupils:
https://www.gov.uk/government/publications/coronavirus-covid-19-online-education-resources/coronavirus-covid-19-list-of-online-education-resources-for-home-education#special-educational-needs-and-disabilities-send
http://www.thesensoryprojects.co.uk/covid19-resources
https://councilfordisabledchildren.org.uk/help-resources/resources/supporting-children-learning-disability-asd-coping-covid-19-isolation
https://www.eyalliance.org.uk/special-educational-needs-and-disability-send
Websites with fun resources and activities to do at home. Click on the titles below:
Joe Wicks - Daily PE - LIVE @ 9:00am
David Walliams - Daily Audio Story
- Catch up on other Audio Stories
BBC Sounds - School Radio
Stimulus Sounds - Animals and Habitats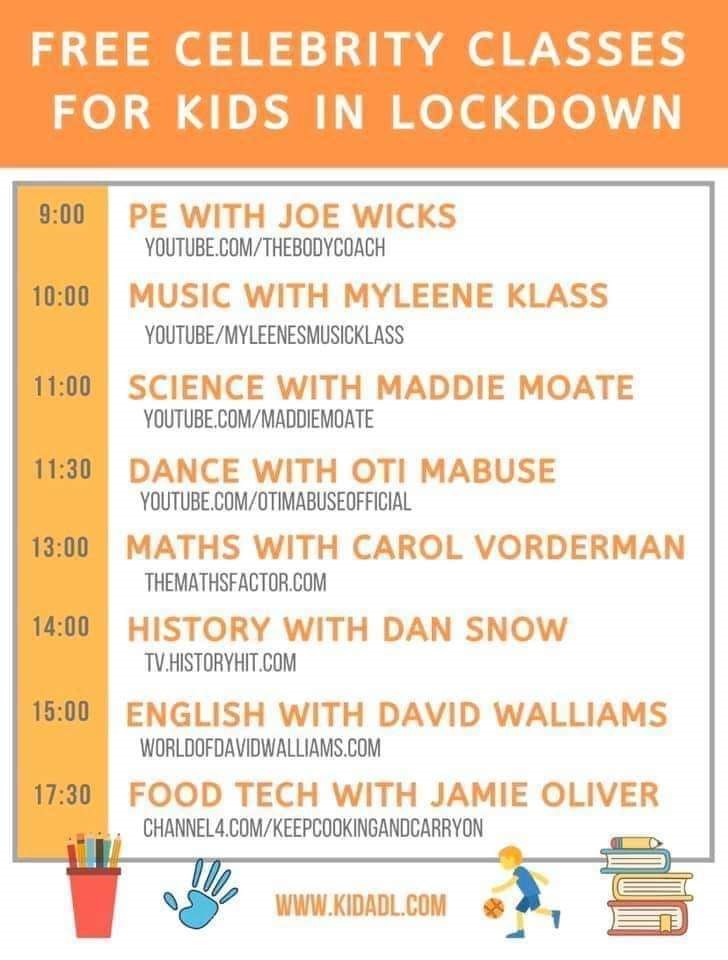 English
Maths
ICT
Phonics/Symbols
Widgit Online – To make sure symbol users have access to the systems and resources they need, we would like to offer free and unrestricted access to Widgit Online and it's ready-made materials for 30 days. Use Code: WIDGIT30
Tacpac at Home - TacPac have made their resources available for access at home. TacPac set 5 has been made available to be used at home for 3 months, a series of short training bites on Facebook have also been made available and demonstrates how to use TacPac.
These resources can be accessed by clicking the following link; www.facebook.com/TacpacLtd
To access set 5 please click the following link and add the code: 8Q7A3TXS
Other
The Communication Trust - Every Child Understood
ICAN - Helps Children Communicate
The Education People - Home Learning Materials Pack
Interactive Books With Signing