The Ifield Occupational Therapy team consists of
Two experienced Occupational Therapists (OT) (part time)
1 Occupational Therapy Assistant (OTA) - full time
How we work
The OT's are assigned specific classes at the beginning of the academic year and work closely with the class team and pupils throughout the year. Therapists will meet with class teachers during term 1 for joint planning of targets and interventions to support the pupils EHCP outcomes. Targets will be monitored throughout the school academic year with class teams.
The Occupational Therapy team provides three types of service within Ifield school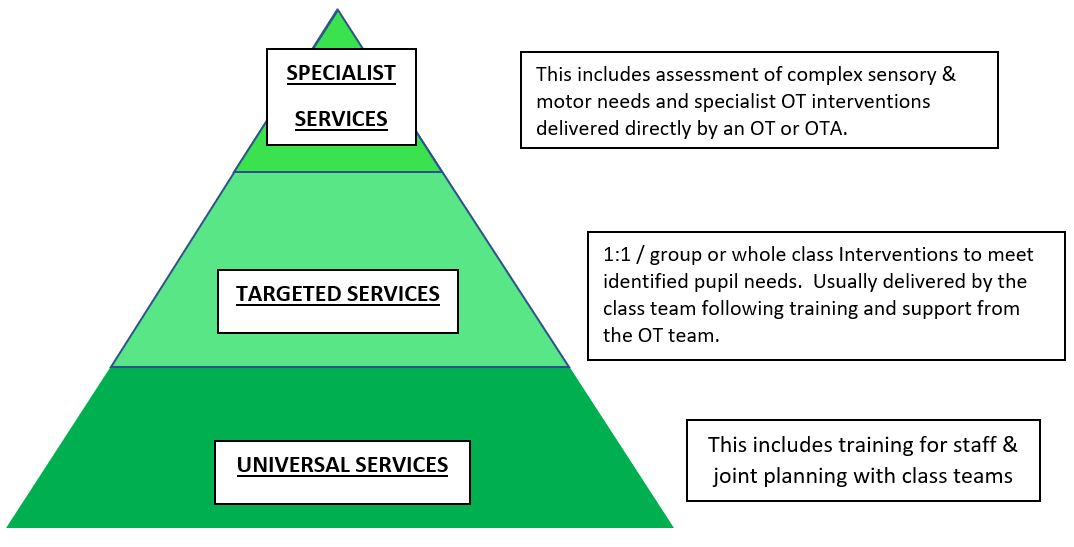 Examples of Interventions
Sensory Diets that can include

Sensory circuits
Swing room sessions
Sensory equipment such as hug vest, weighted jackets and chewie's.
Quickshifts music for more information click For Parents - Vital Links

Clever fingers – fine motor development Activity packs for class
Motor skill development groups
Fun with food sessions – to support students with restrictive diets
Handwriting development groups
Zones of Regulation - to support pupils in learning about their emotions and how to manage them.
Support with developing Daily living skills.