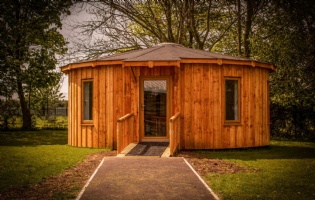 We are delighted to share our latest new development at Ifield School. A Rotunda Roundhouse was built during the Easter holidays. The new building has been created to provide outstanding learning opportunities in a unique building within our outdoor space adjacent to Ifield Life.
It is currently being used to cater for media and drama lessons within key stage 3 and 4. Pupils within the primary school will also benefit from personalised lessons and interventions taking place within this space.
We are sure you will agree that this is a stunning new addition to our facilities at Ifield School.
Please see photos below of our Reading Round Rotunda Roundhouse and the fantastic custom bookshelf that has been designed,