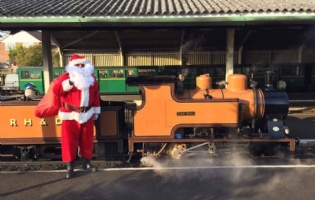 Romney Hythe and Dymchurch railway are supporting passengers with Autism and other special needs during the afternoon of the 20/12/2019 by making a few changes:
Our Christmas light won't be flashy! They'll still be on for those who want to feel the magic but they'll be on constantly with no flashes, sparkles or fades.
We'll turn our music down! Christmas carols will be played below our normal volume.
We won't shout about Santa! Our tannoy announcements will be switched off during this period.
There'll be less whistling while we work! We'll keep train whistling to a minimum and only whistle where it's necessary.
We'll take our time! Whilst this Santa Special benefits from one hour at New Romney we will welcome fewer children meaning less rushing for those nervous visitors.
Skip the queue! Santa's Grotto is where you'll queue to see the full array of our decorations but if this isn't fun for you we're happy to give a return time to bypass the Grotto.
What Santa wants you to know:
There will still be a couple of whistles on the journey from Hythe to New Romney and return.
Our level crossing systems make a 2 tone bleeping sound (for safety) when the trains cross them. This will happen a couple of times on your journey.
Tickets can be booked by clicking the following link,
https://rhdr.vticket.co.uk/product.php/134/santas-quiet-hour/75d32c7762d67cb70fc0ab16282f0655